Saturday
Dec 28,2013

How do successful web designers make great-looking websites quickly and at very low cost?
Paying outrageous fees for a website, sucks.
You know how many small business owners paid expensive fees to web designers while others managed to pay just a fraction of this cost? Company A, a small business, paid $6300 (source: createownwebsite.org/small-business-website-cost) for an information website. Another business, company B, paid only $200 for the same kind of website, with the same number of pages, same specs for web hosting and almost the same design features. How is this even possible? Shocking truth: Company B did not engage a web designer. (more…)
Sunday
Oct 13,2013
Shutterbugs! What are the best options for photo hosting right now?
Common Question by Photographers:
I was with Smugmug. SmugMug sucks! They increased their prices by 100%! I am looking for alternatives for my photo storage and presentation needs. I was wondering what would you recommend so far.

I absolutely need the hosting to have: decent storage capacity, but not enormous (I care more about using this service as an archive and occasional presentation/display/sale vehicle).

In short, this SumgMug alternative should have clean, stylish and fully customizable designs so that photographers like me is able to upload, present and sell photography.
Our Answer:
You have two (2) options when it comes to photo hosting. You can either get a solution-as-a-service photo hosting, such as Smugmug, Zenfolio etc; or you can get your own website on a full-fledged web hosting service. You will have full control of your website and profits with the later.
Friday
Nov 26,2010
This time Godaddy really sucks. Netfirms is giving a much cheaper rate and it is not just for .COM domains. Take advantage of $4.95 .COM domains until November 30 2010. This offer easily beats Godaddy $5 domain deal.
You need to use coupon code CYBER495 at checkout.
Friday
Nov 26,2010
What a big scam by Godaddy. Last week we paid more than $10 for a .COM domain. Today we found out that people are registering domain names for only $5.00 per .COM domain! Well, now when we looked at it from the bright side, we went and registered another .COM domain name. You should do the same too.
Friday
Nov 19,2010
You know how people think they have made a great investment on the current GM stock IPO when there are less risky ways to make (or lose) money? We believe you can easily be better off by going on a real business venture, even by being a web domain registration reseller selling Godaddy products. Atleast you can proudly say you are in the business of domain names registration, instead of the owner of the once bankrupt GM.
Sunday
Aug 22,2010
According to our research, here are the best hosting services based on different categories that may be more specific to your needs such as best reseller hosting, best cPanel hosting, best green hosting, best windows hosting, best ecommerce hosting, best online backup and much more. We recommend them because they don't suck (literally). We gave these hosts our best ratings because they have the least problems with customers, least "suck" pages on Google SERP, and least negative feedback from users on this site. Their plans and packages also get less money-back requests from the money-back guarantee offered by these providers. Save your time. Get hosted and get on with your business today.
Web Host
Best Plan
Disk
Bandwidth
Discounts / Promotions

InMotionHosting



Best Business Host

$5.95
$6.95
Unlimited
Unlimited
Cheapest Plan at $3/month

Stablehost



Best cPanel Host

$2.95
$9.95
5GB
100GB
$2.95 $5.95 with coupon + free domain

CoolHandle.com



Fastest Growing Host

$7.95
Unlimited
Unlimited
Seasonal discounts

Webhostingpad



Best Budget Host



$1.99
Unlimited
Unlimited
Free domain
$15 OFF using coupon


GreenGeeks



Best Free Migration

$6.95
Unlimited
Unlimited
Free Domain Name
Click here for $25 OFF
Yahoo! Web Hosting



Most Trusted Hosting



$9.95 $7.46
Unlimited
Unlimited
Free Domain

Hostgator



Best Reseller Hosting



$24.95
24GB
250GB
Try Shared Hosting

Webfaction



Best Agile Hosting



$5.50
10GB
600GB
60-day money back guarantee
Justhost



Best Affordable Hosting



$4.95
$3.95
Unlimited
Unlimited
$3.95 Promo Special



Fatcow



Best Unlimited Hosting



$88 per year
$66 per year
Unlimited
Unlimited
Special discount COUPON
Read our Fatcow review

Carbonite



Best Online Backup

FREE
Unlimited
Unlimited
Free trial
Note: The above list is not presented in any order. You should select a web host based on your requirements and usage plan.
Wednesday
Dec 2,2009
Our favorite bulk domain registration service, Netfirms is having a $6.95 Domain Offer for .com .net .org – but you need to hurry because this is a limited time offer. Would you agree that this is the cheapest price you can get for any .COM, .ORG or .NET domain name?
Coupon: Click on the image below to get this discount price. You will not get this special exclusive price if you go direct to netfirms.com website.
Friday
May 1,2009

Heart Internet Web Hosting sucks real bad. They are so bad because they don't have any bad reviews about them when we searched for "heart internet sucks" or "heart internet complaints" on Google today… yeah sucks for their UK competitors is what we meant. We also tried "heartinternet sucks", "hearinternet sucks", "heatinternet sucks", "HeartInternet sux" and other variation of misspells, just incase some smart ass cannot even spell the host name right or try to avoid being sued by HeartInternet. Sorry still none. (more…)
Sunday
Dec 21,2008
Need help deciding between Godaddy and Bluehost? Which is better when comparing Godaddy hosting vs Bluehost.com? They have their own benefits and special features. Both have their own loyal followers. Both are two of the best domain registration companies out there with millions of domains registered by them. All other reviews out there cannot help us at this point because both Bluehost web hosting and Godaddy are good in their own ways. You have read the other reviews. You know they are both the best in the web hosting industry. So how about letting the numbers decide? Forget about which is the best. Let us eliminate the worst between the two heavyweights.
How are we going to do that? Let us look at how many reviews said Bluehost Rocks and Bluehost Sucks, and how many customer experiences said Godaddy Sucks or Godaddy Rocks by looking at Google's search engine result pages (SERPs). Now let us see our tie-breaker and hostingsthatsuck.com very own Godaddy and Bluehost comparison rating. (more…)
Saturday
Dec 20,2008
Heard about Dreamhost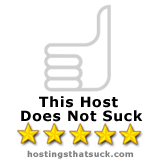 problems? Some say Dreamhost Hosting scams or Dreamhost sucks? Saw some Dreamhost.com issues, Dreamhost complaints and bad customer experiences? Can these negative reviews be trusted? Heard some horror stories about their limitations? READ THIS FIRST!
Dreamhost is Bad? Not too fast.
If you are considering to get a hosting account from Dreamhost, you may want to (or probably have tried to) search for the keywords "Dreamhost Sucks" on Google. However, the result may confuse you. Perhaps you have read tons of good stuff and rave reviews about Dreamhost.com thus far.
Did Dreamhost experiences and stories like below or made you think twice to signup with Dreamhost?
"…DreamHost doesn't offer any phone support unless you pay for one of their more expensive plans…"
"That's my business website, fools! Why'd you shut it down?…"
"I've concluded that Dreamhost sucks phenomenally at hosting websites that generate any kind of traffic…"