These days, everyone's talking about the cloud and how it can save businesses serious money. RingCentral is a great example of that. They provide cloud-based phone systems for businesses. Everything is done over the Internet, so there's no expensive equipment to buy and you can access it from any computer or smartphone anywhere. That's pretty cool.
Another thing that's pretty cool is the Internet fax feature that comes with it. You can send and receive faxes on any computer anywhere. You can also get them on your smartphone. Thanks to RingCentral, you don't even need a fax machine anymore.
Even small business websites should have fax and toll free numbers


Website owners can now have fax and 1800 numbers easily

They've been around since 2003 and have won several awards for their technology, including the prestigious World Economic Forum Technology Pioneer Award. Not too shabby.
When it comes to pricing, RingCentral plans are very affordable and you can add more users easily as your business grows or changes. That's the beauty of the cloud. If you have employees, you can put them all on one phone system no matter where they are or what phone they're using and manage the whole system over the Internet.
In terms of features, RingCentral has a ton of them. You'll find all the usual things you'd expect like voicemail, on hold music, greetings, call forwarding, call screening, and more. They also have a handy application called the Call Controller™ that enables you to answer and control calls from your computer desktop. Secure your own toll-free number below and try Ringcentral for free.
More Benefits of using Ringcentral
Set up call screening prompts so your callers are asked to give their name. Then RingCentral rings your particular phone number and tells you who's calling. You can decide whether to take the call or not. And you can set up your answering rules to indicate business hours so the phone rings only during specific times of day and days of the week.
You can place a RingMe button on your website or email signature and your callers can just click it to talk with you. RingCentral will ask the customer to enter their phone number, call them, and then connect the call to you.
With RingCentral Fax, faxes are delivered to your email inbox and are also stored online for easy access from anywhere.
You have the option of having a local or toll-free number for your company. You also get voicemail with the options of personalizing your greeting, selecting from multiple notification options, and picking up your voicemails in your email account, in your online account, or by phone.
Your record of faxes and calls are stored in an easy-to-use web-based account.
A toll-free number gives the perception of a higher level of professionalism, consciously or subconsciously.
RingCentral for iPhone, Android and Blackberry
RingCentral also has Smartphone apps that make it really easy to stay connected on the go. RingCentral has apps for iPhone, Android, and BlackBerry. The iPhone app has VoIP calling, so you can make calls over Wi-Fi or 3G without having to use your wireless minutes. Nice job, RingCentral! What more can we say? You should try it out for yourself with their free 30 day trial. It's the best way to see how the service works and how it can help your business. Get a free trial today

.
Free Trial and Free Faxes Links:
Words of Caution about Ringcentral
Okay, we have heard some RingCentral complaints especially about not being able to cancel the RingCentral account. Not to mention some people saying that RingCentral scams, or reported problems about Ring Central systems.
No one will answer the phone. I tried the live chat and waited out the queue for over 30 minutes and when it was my turn, they canceled the chat!
We only signed on with them in May and have had nothing but trouble trying to get our phone system up and running properly. We pumped up our customer base with the promise of our newly offered phone support, and have been paying staff to answer these calls. However, the calls never come…
… after the "level 1″ rep overseas can't help you, and you ask to get someone in the US, they put you on hold for 10 minutes, then tell you "a Manager will call you back" – but they won't.
However, we think these complaints like above are baseless. Seriously, it is not so hard to cancel your account if you are really not satisfied with them. We canceled an account at RingCentral with ease. We did not even have to speak to the customer service. We canceled because we have no need of a toll-free number or a fax hosting, not because Ringcentral service is bad or anything. The screen shots below showed how we did it.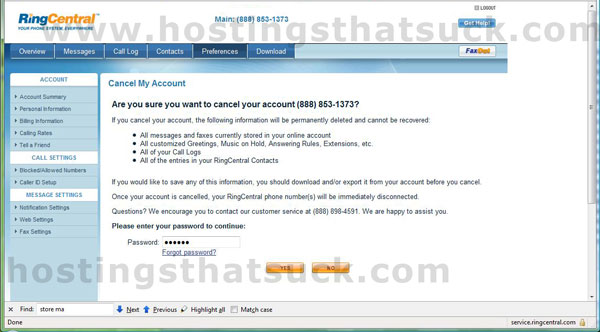 So why did we cancel? We did bulk domain registration, read some ecommerce hosting reviews and set up our business websites. The orders did not really come in as we liked it to be, so we went on to the next business venture. Well, you can tell RingCentral what ever reason you want. We don't think it matters that much, especially if you do the cancellation online.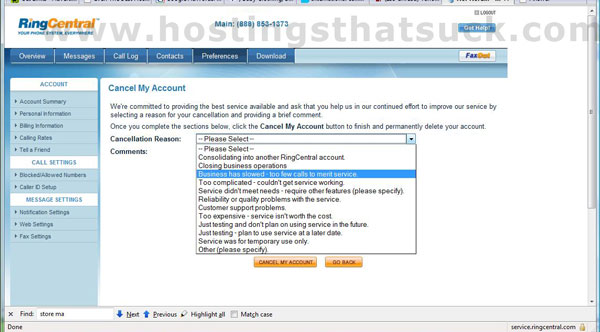 There are a few ways to cancel the account with RingCentral. You need to do it before your trial expires! Don't nag and complaint if you missed the deadline.
Simply call RingCentral at (888) 898-4591 and speak with one of RingCentral's customer service representatives during support hours.
Cancel using the link on their web-based control panel like we did. This is what we have done and it was a breeze.
You will then receive an Account Cancelation Confirmation email from RingCentral. If you did not receive this email (see below), the cancellation was not successful and you should assume that your account is still working and you will be billed after the trial period has ended.
Account Cancelation Confirmation

Dear John Doe (Not my real name),

Per you request your RingCentral (888) 8888-3333 account has been canceled. We appreciate your business and hope to serve you again in the future!

IMPORTANT! If you have not canceled your account or have any questions please call us immediately at 1-888-898-4591.

For your convenience we will preserve your phone number and all the messages for 30 days. You can restore your account by contacting Customer Support at 1-888-898-4591 by 08/26/2009.

Thank you for using RingCentral!
Simple isn't it? Would you agree that the their cancellation process is reasonably easy?
Don't just listen to rumors. Try first. According to a study conducted by America's premier customer services research firm, TARP, customers are more likely to speak about a company when things go wrong rather than when they go right. On average, customers are twice as likely to talk about a bad experience as they are to share a positive one. So we can safely say that for every negative comment about RingCentral, there are two more good Ringcentral reviews we did not hear about. You probably have purchased the best ecommerce hosting and your online store is ready to roll. An online fax and phone system will get those orders coming your way in no time.
p.s: RingCentral also is in Canada and the UK. They have Canadian local and toll-free numbers and UK local and freephone 0800 numbers and offer 500 free Canada faxes and 500 free UK faxes.