Tuesday
Nov 22,2011
Are you looking for a BigCommerce review? This is not another paid review you see all over the Internet. This is also not just another a blog post by a BigCommerce affiliate who blindly promotes the service and copy-pasting the features + benefits on a page full of affiliate links. If you already have a hosting account and want a free shopping cart to use on your website, then BigCommerce is not what you are looking for. If you want a hosted shopping cart that has no complaints whatsoever, then do not get BigCommerce. However, if you need to create a storefront quickly without any per transaction fee, then BigCommerce could just be the perfect solution for you.
BigCommerce Problems
Yes it does suck, just like all other not-so-perfect eCommerce solutions. Despite the glowing paid reviews all over the web, there are also also a few negative comments we heard about BigCommerce. Some of the major complaints are the integration with eBay and also about their HTML editor. If you do not plan to simultaneously sell on eBay, and do not want to modify your the HTML part of your product description too much, then you should give BigCommerce a try (it is free). We have learned that you have to take these negative comments with a grain of salt. It is kinda like reviews on movies, just because it wasn't good for someone else, doesn't mean it will not be great for you. Unsatisfiend customers also shout louder on the web.
Read the rest of this entry »
Sunday
Nov 20,2011
You know how many Mac users who are publishing their websites using iWeb started panicking when they heard that the late Steve Jobs told an iWeb user to start looking for another website builder and a new host? The lack of iWeb love from Apple, further strengthens any rumor that iWeb and MobileMe would not be developed further. In June 2011, Apple confirmed that iWeb publishing, MobileMe Gallery, and iDisk will all disappear as the company sunsets its current online service in favor of iCloud.
Publishing iWeb via FTP
So if you still have your iWeb websites, it is time to move to an iWeb FTP hosting. iWeb featured built-in support for publishing to other third-party web hosts with FTP, although MobileMe is the default host. Therefore, you do have the power to publish to another hosting company.
Here are some reasons why an FTP hosting is better than MobileMe.
MobileMe is no longer accepting new subscribers so forget it if you are just starting out to use MobileMe.
If you're a current member of MobileMe, you can access everything only until June 30, 2012. It is time to panic, or lose everything.
MobileMe doesn't support any server side language such as PHP but most FTP web hosts do.
MobileMe does not give enough storage, and this is not good if you are serious about your website.
iCloud is Apple's new cloud service to replace MobileMe, but sorry, iWeb publishing is not part of the services to be offered. Did we say you should panic?
Tuesday
Nov 15,2011
Free website hosting is definitely not for you if you are serious about having a website, ecommerce site or a blog. Here are 10 reasons why you should avoid free hosting.
Free or dirt cheap website hosting attract spammers, scammers, phishers and hackers. These low-lifes of the WWW might end up on your shared server, and can trigger many kinds of problems.
Lengthy URLs, with the free web host's name in them. This doesn't instill much confidence in prospective buyers or potential customers. How do you like a URL like this:


www.bestdomainregistrars.org

vs

https://lorainenor9913.webs.com/apps/blog/show/7057639-5-commonly-asked-questions-about-domain-name-registration-service-in-simple-layman-terms (sorry we had to cut the URL shorter to fit this page).

Support is, at best, not very friendly or quick to respond. At some free web hosts, it's practically non-existent. Need phone support? Want a live chat to talk about a technical problem? Dream on.
Space and bandwidth given to internet websites by free hosting companies are usually quite little.
Wednesday
Oct 19,2011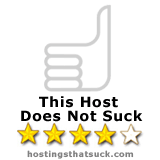 You know how so many people ended up with a bad web host and jeopardized their business because of that? If you came to this page, you probably have decided not to make the same mistake of choosing a web host that sucks. Based on our research, there is no such thing as the best web hosting and there is no perfect web host. iPage Hosting is no exception.
iPage Web Hosting: The Advantages
Here are why so many people are using iPage to host their websites, making iPage one of the top 10 most popular web host today:
iPage Web Hosting: Disadvantages
This is where some people said "ipage sucks", wrote about "ipage complaints" and spread the words that "ipage sux".
Sub-par billing system
No option to upgrade to VPS or dedicated hosting
Customer support although fast and polite, is not the most knowledgable
Thursday
Sep 1,2011
We have had some people asking for a review for Mac hosting services. To put it is simple words – Mac website hosting sucks, and here is the main reason why.
"Mac Hosting plans are many times more expensive than Linux or even Windows web hosting."
Here are some common myths about Mac website hosting:
Mac-compatible or Apple-compatible hosting is hosted on a Mac or Apple server
Mac-friendly hosting is hosted on Mac or Apple server
Believe it or not, most of the mac-compatible and mac-friendly hosting are not even using Mac servers. So why are people paying much more to use them? Educate yourself about your hosting options and you can make your own wise decision.
The Truth about Mac Hosting
If you are a Mac user, let us help you get the facts straight about web hosting – there is no exclusive need for web hosting for Mac OS users. You do not need a special Mac web hosting!
What is Web Hosting
The hosting server acts like your house on the World Wide Web. It is where all your website files reside. When someone knows your address (i.e domain name), they will come to the house (i.e using a web browser) and you can show them around. Every once in a while you either have to clean the site (maintenance and updating of the files).
You can use any web hosting company because your website will be hosted on the server. You can build your web pages (or house as in the web hosting analogy above) using Adobe Dreamweaver for Mac and save the files with their respective extensions such as HTML, PHP etc. Use Fetch or an FTP program to transfer your files to the server.
Read the rest of this entry »
Tuesday
Aug 16,2011
Are you considering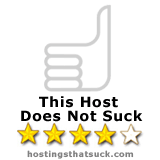 Fatcow for your website, but have heard mixed reviews about Fatcow? We do not blame you for being more confused after reading and listening to any Fatcow review. We will be upfront and straight to the point from the beginning – if you want a website provider with absolutely zero negative feedback, and tech support that solves all your hosting problem within 5 minutes, then you should not proceed with Fatcow. Read our alternative hosting options below for recommendation. If you want a web hosting that doesn't care if you upload 55,681 MP3 songs or images to your web hosting space; then DO NOT get the hosting plan from Fatcow because you will quickly get your account suspended.
However, if you mostly want an affordable PHP/MySQL hosting, with free domain name and beginner-friendly website Builder, you will like Fatcow just fine.
Some say Fatcow Hosting scams or Fatcow sucks? Saw some Fatcow.com issues, Fatcow complaints and bad customer experiences? Can these negative reviews be trusted? Heard some horror stories about their limitations?
Here is the truth. According to a study conducted by America's premier customer services research firm, TARP, customers are more likely to speak about a company when things go wrong rather than when they go right. On average, customers are twice as likely to talk about a bad experience as they are to share a positive one. So we can safely say that for every negative comment about Fatcow, there are two more good Fatcow reviews we did not hear about.
Saturday
May 14,2011
Attention all comment spammers,
I am getting really annoyed with comments like:
"Hey, very nice site. "

"I came across this on Google… "

"I will definitely be coming back here more often. "
Spam from indianetcraft.com:
Incredibaly well written article. I appriciate your writing skill, you have done a good work. Your article is one of the useful article on subeject. Thanks for your hardwork.
Friday
Mar 25,2011
If you are considering to get ANY website hosting account (not just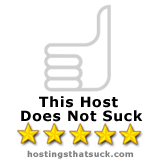 GreenGeeks.com in particular), we always suggest that you search for how much they "suck" on the internet, i.e we searched for "GreenGeeks Sucks" or "GreenGeeks bad" on Google. However, sometimes these results can confuse you even more. Perhaps you have read tons of good stuff and rave reviews about GreenGeeks.com thus far.
Read the rest of this entry »
Sunday
Feb 6,2011
PRWeb gives you everything you need to get attention, improve search engine rankings, and drive more business to your door.
Read the rest of this entry »
Sunday
Feb 6,2011
Need to move to a new domain registrar? For a limited time only (48 hours), move your .com/.org/.net/.info/.biz domains to Namecheap.com for an amazingly low $3.99 and consolidate your domain portfolio with Namecheap. Just use coupon code below to get this special offer!
Read the rest of this entry »